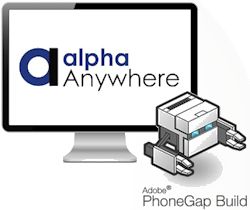 Presented By:
Bob Moore
VP of Mobile Technology
Alpha Software
Overview:
Support for PhoneGap Build is now tightly integrated into Alpha Anywhere! PhoneGap is an open source product that allows you to build hybrid apps for mobile devices—that have access to all of the native features of the device—and deploy them to the various app stores. This is done seamlessly in Alpha Anywhere by wrapping your Alpha Anywhere HTML5 app in PhoneGap.

Join Bob Moore, Alpha's VP of Mobile Technology, as he provides an overview of this exciting new capability and demonstrates how you can quickly and easily start building hybrid mobile apps with Alpha Anywhere.

Watch Bob's introduction to Alpha Anywhere's PhoneGap integration below:
Simply fill out the form to view the webinar...